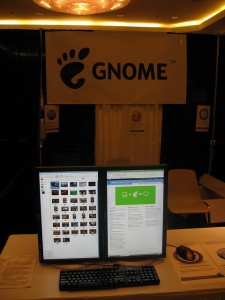 Once upon a time, a freedom loving gnome hacker asked for help running a booth for GNOME at the Southern California Linux Expo for their 6th conference.
I thought, "Sure, why not, sounds like fun and perhaps I'll meet some cool people.".
That event seems like forever ago and I've not looked back since. Eric Butler, who joined us for the booth that year wrote a great write up of SCALE6x. He then went on to change the way web 2.0 websites think about security by writing Fire Sheep.
The following year for SCALE7x, I had the awful experience of my apartment being broken into a few days before the conference. The contents of the GNOME Event Box was dumped in my living room floor. The intruders took many of my valuables and electronics, stuffed it into the event box, and rolled it right out my front door while I was at work. Luckily for us, that didn't make things any less awesome. Work let me borrow some hardware and all was well. Due to messing up my insurance paperwork and feeling bad about it, I just bought the foundation a new booth and contents out of pocket.

SCALE8x was very interesting when Christian and Jordan stocked a wet bar under the booth. There are a few stories floating around about me napping on the floor in the middle of the expo room. I swear they are all lies! Shapor and Jble also helped us keep things runnings smoothly.
Just like the past three years, Jordan, Christian, and myself ran the GNOME booth for SCALE9x. The difference is that this time I'm finally going to blog about it. We also had the pleasure of Christer Edwards coming all the way from Utah to help with booth logistics and a Sysadmin Hackfest. There were a few small issues that we'll fix for next year, but all around things kicked ass.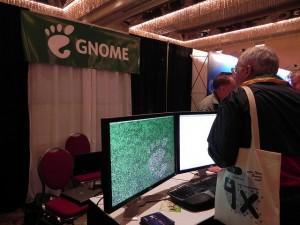 Some time in all of this mess I joined the GNOME Sysadmin Team, became a contributor and then maintainer for snowy, and even was sponsored to fly to the boston summit! Reflecting back on all of this all I've got to say is thank you. GNOME *is* people and it is those people who make it awesome. The 3.0 release has went really well and I can't wait to help push things forward even further.
Oh right, introductions… Thanks to the powers that be, I'm now on Planet GNOME. My name is Jeff Schroeder and I'm a GNOME-a-holic. I love python, ponies, and winning. While not as much of a fan of ice cream as Vincent, I could totally take him in an octagon ice cream deathmatch.  In all seriousness, it blows my mind that one person truly can make an impact. No matter how small your contribution, it will make a difference. If you don't have the time or energy to work on translations, the wiki, or coding, please consider becoming a friend of GNOME. If you can't do that, report bugs you find in your favorite GNOME software . There is something for everyone to work on and I'm just doing my little part. That my friends is how I'm changing the world in my own little way, and changing things for the better.
Tune in next time! Same bat time, same bat channel. This is Jeff Schroeder signing off!