Without much fanfare, my wife and I came to the Desktop Summit here in Berlin. I met a whole lot of very cool people and even some kde hackers as well. There are plenty of people I had a great time meeting and forgot to mention, but I'll blame Behdad. His insistence on more shots of Absinthe is why I forgot their names. It has been absolutely incredible to *finally* meet so many people whom I've followed via planet or chatted with on IRC for years.
The great PiTiVi Hackers and I are hacking away in Wonderpots, this frozen yogurt shop right next to Humboldt University with great food and free 1Mbps wifi. Since he last posted, the PiTiVi team has done some great stuff. Stay tuned for more to come. I'm actually hacking on mango, the rewrite of the accounts management system for gnome. I'm on the left side in the red shirt.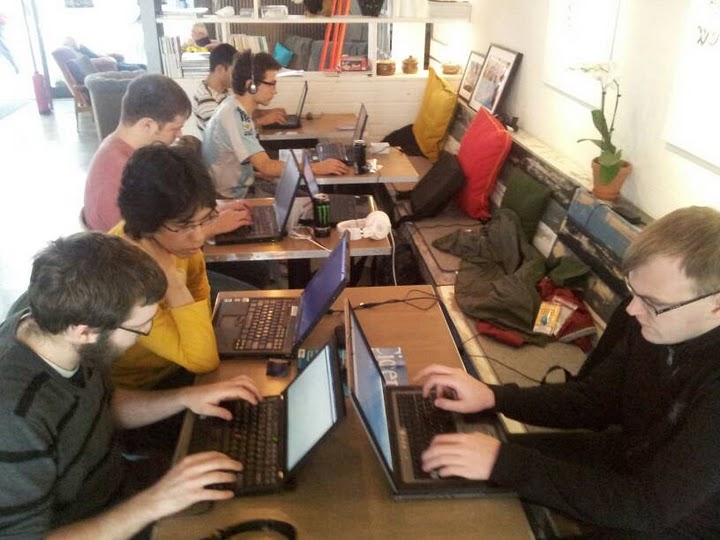 In an hour or so, Becca and I will start preparing for our trip around Germany. Of Germany, the only thing I can think so far is that this is a wonderful country. The people are nice (even to American monoglots who try to speak horribly broken German), the food is amazing, and everything is so full of life. If I'd have came here 10 years ago, I'd have never went back to the US. We'll be doing a walking tour around Berlin, hopping a train or plane to Munich to tour Neuschwanstein and whatever else happens to happen along the way.
If anyone has any suggestions of what to do in the next week, please leave it in a comment. Now back to hacking…
Update: Added a picture of our yogurt shop setup. Pretty sweet huh?